A 32 year old man from Stamford, Connecticut, was tragically killed in a bizarre traffic accident while driving his Toyota Prius along I-95 yesterday evening. According to a joint statement released by the Stamford Coroner's Office and the Stamford Police Department, Dale Billingsley was ostensibly flossing his teeth while cruising on the highway when his Prius was rear-ended by a large pickup truck. "The front airbags deployed and drove Mr. Billingsley's dental floss pick through his head," the statement indicated. The dental floss pick apparently had enough velocity to "slice through the inner musculature of the victim's head, eventually impaling the brain."
In a fantastic twist, the driver of the pickup truck, a 31 year old female from White Plains, New York, may have deliberately crashed into Mr. Billingsley's car. "The pickup was driven by one Felicia del Vostro, who is supposedly Mr. Billingsley's former girlfriend," Detective Brock Bulger stated during a brief press conference. "We have reason to believe Ms. del Vostro may have purposefully rammed the Prius knowing that Mr. Billingsley, a compulsive flosser, would most likely have a dental floss pick in his mouth."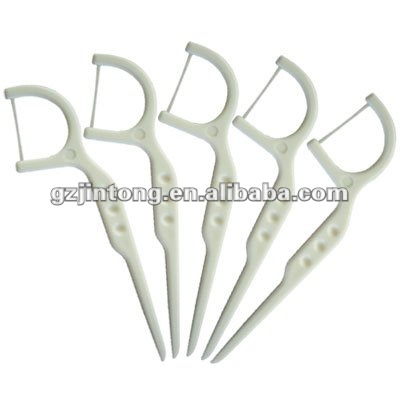 Dental floss picks: simple tools for fighting gingivits or deadly weapons thrust into a torrid love affair?
"We lost a great man," Brooklyn Madison, President of the Federated League of United Frequent Flossers (FLUFF), stated during a phone interview. "Dale had two passions in life: being green and having good gums." Ms. Madison indicated that "Felicia didn't see herself as one of Dale's priorities," and speculated she came to resent flossing and flossers more generally. "She didn't seem to like FLUFFers," Ms. Madison opined.
Heath Henderson, a member of the Stamford Chapter of the Prius Pride Party, questions Ms. Madison's depiction of events. "I think Felicia suspected some sort of odd love affair between Dale and Brooklyn," stated Mr. Henderson. "They both seemed to have a thing for dental floss picks. It was almost...erotic."
Tinkle Thenly, Mr. Billingsley's roommate and fellow FLUFFer, proffered yet another possibility, stating "I always thought Dale was gay and in love with Heath." When informed of Mr. Henderson's intimation of an affair between Dale and Brooklyn, Ms. Thenly was taken aback. "Love triangle?" she guessed.
We contacted Detective Bulger to discuss the statements made by Ms. Madison, Mr. Henderson, and Ms. Thenly. "We're exploring all leads," the Detective stated. "It's premature to conclude anything at this point. We need to cut through mere gossip and hearsay and focus on the facts." When asked whether a dental floss pick was indeed used as a deadly weapon, Detective Bulger responded, "Maybe. And if that's the case, the citizens of Stamford can rest easy knowing that no one uses a dental floss pick as a hostile projectile in our town and gets away with it. Not on my watch."